Filmmaking is a huge industry and most of the creative behind the camera go unnoticed, except for a few Hollywood blockbuster directors. We caught up with critically acclaimed filmmaker Kafui Praise, who shed some light on her journey so far in the industry.
Kafui Praise has won various accolades for her work, which primarily focuses on working with both local and international organizations that want to tell stories that matter and change lives. She won Ghana Startup Award for Arts, Culture, and Tourism in 2016, and in 2021, the Canon Woman for Change award.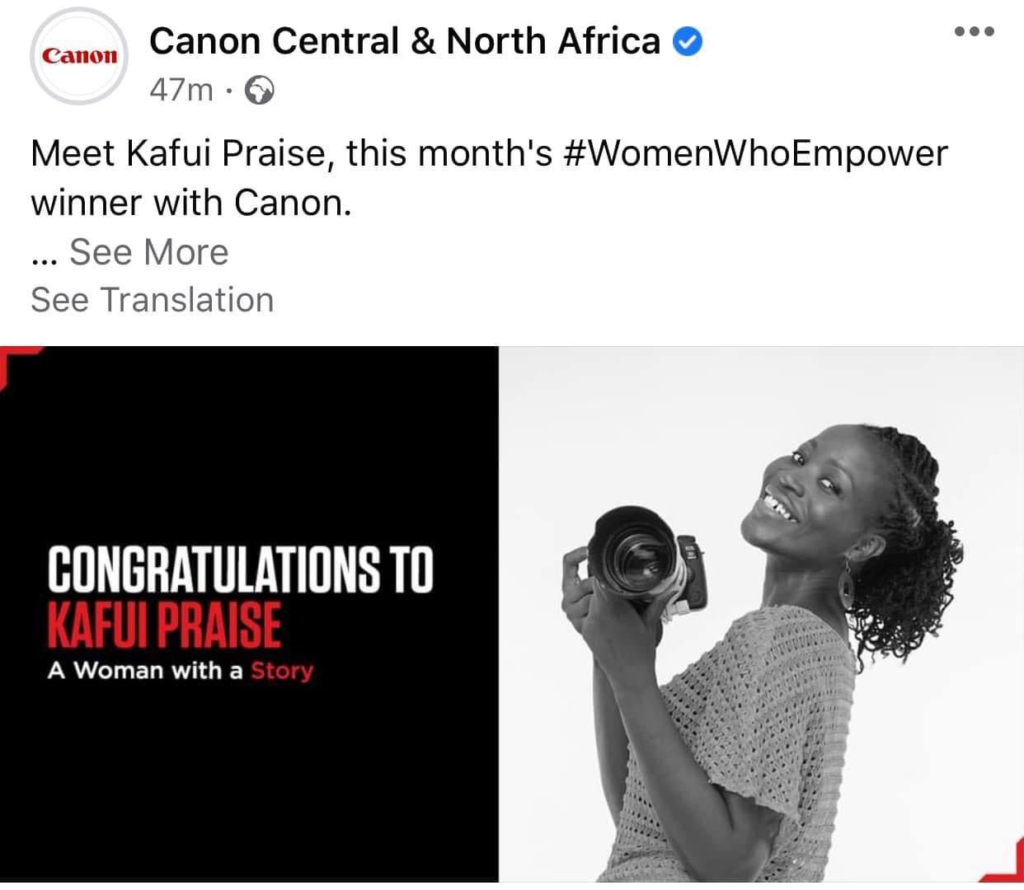 Her inspiring story is of great impact to many, and we hope you learn a thing or two from this phenomenal woman:
Career Fodder: You are a renowned storyteller who has done a lot in photography, music video, and documentary filmmaking. Could you please tell us how you got started in your career?
KP: My name is Matilda Dogbatsey and my brand name is Kafui Praise. I am a Ghana-based documentary filmmaker and photographer. I've been doing this for about 8 years now. It started with passion – the love of it.
Being able to show people what I see through my camera and seeing people's reactions to it is priceless. They started paying me for it. That's how it turned out to become a business.
CF: What was the turning point that led you to shift from photography to documentary filmmaking three years ago?
KP: So, after doing photography for five years, it actually became boring to me. I like to be inspired and I'm always looking out for what's new, and what's next to do. Photography seemed to be the same cycle over and over again.
So I decided to delve into filmmaking and learn more about it. Filmmaking is a broad field, there are various aspects of it, and always something to learn. 
There's always something new to grow into. With documentary filmmaking, I'm able to tell real-life stories. So it became something I got drawn to. 
All the international organizations that I do projects for all come because they have documentary stories and make an impact in Ghana which they want the world to know.
 CF: What are you most proud of in the work you've done?
KP: It has to be a particular picture I took in the North…of school kids. I was in a taxi going to a forest reserve for vacation just to see the elephants and stuff. These school kids were running after the car I was in.
I took the picture from the side view mirror of the car. You could see a lot of children running after the car trying to touch it.
I named that picture 'Chasing the Moving Dream'. 
Any time people see it, they get inspired. 
Through this picture and one of a schoolgirl, I was able to get 370 brand new 'TOM's" shoes from a philanthropist to donate to two schools and an orphanage in the Northern region. ​​
A whole documentary film came out of this picture. Even with the obstacles I've faced to make things happen, this is something I can look back on and smile on. 
CF: You've accomplished so much so far in your career. What are some of your aspirations going into the future?
KP: I want to be known as one of the best female documentary filmmakers in Africa and around the world. That's something I aspire to be.
CF: Away from your professional work, what are some of the things that you do for fun?
KP: I love watching Netflix at home or going on vacation. I like to travel a lot. God being so good, I married a  man who is also a photographer and filmmaker. So, we get to travel a lot.
CF: What's the advice that you have for aspiring filmmakers across Africa who have trouble getting started due to funding limitations?
KP: The media industry is male-dominated. My advice will go specifically to the ladies. Any female who wants to venture into documentary filmmaking or photography and you feel that you're limited to lack of funds…or equipment, I'd say start with what you have.
I actually got my first wedding booking from Norway in 2015, from a Facebook friend whom I've never met in person but he follows the phone pictures I shared on Facebook. It was because of that that I had to quickly get a loan to buy a camera because I had to get ready to cover his wedding when he finally came down to Ghana. 
Don't wait for everything to be perfect. Upgrade yourself, learn…always be on the move. Be open to being trained and mentored. 
Build character because your gift can open doors for you but character will keep those doors open.
Be the best at what you do. 
CF: You gravitate towards telling real-life stories as opposed to purely commercial work. What's the reason behind that?
KP: I do music videos and commercials as well but what I really enjoy doing is documentary filmmaking. I don't mind going to the deepest forest, most remote farm, or a village without electricity just to go and tell stories that matter.
That's how passionate I am about documentary filmmaking.
I get to tell stories that change people's perspectives and linger on for a very long time.
The impact those stories make is just mind-blowing because it changes the narrative for the people, the viewer, and those who want to help those people.
CF: Finally, what's your word of inspiration to creatives out there on navigating this space?
KP: For anyone starting with photography my advice is "Explore all types of photography to discover what you love then build a niche from there". 
Try out everything, see what you enjoy, and grow it. Filmmaking, there are various aspects of it – we have directing, producing, cinematography, editing, conceptualization, color grading, creative directing and so much more.
Learning everything will help you know how to direct your crew, what you need to do and how to do it. 
To contact her :-  www.kafuipraise.com